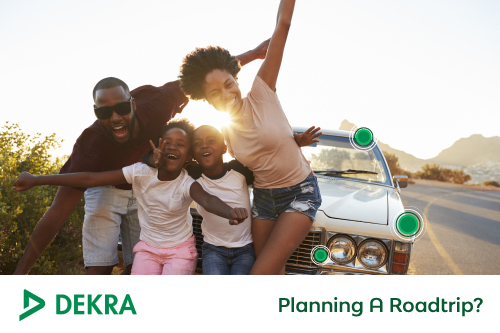 Planning a Road Trip - Make sure your car is ready for the road.
If you are planning a road trip to your holiday destination this Festive Season, take some time to make sure that your car is ready for the trip. Getting stranded on the side of the road because of a mechanical failure is not only frustrating but also poses a safety risk, let alone losing control of your vehicle and possibly landing up in an accident.
"While many road accidents can be attributed to driver behaviour and mechanical failures says Garth Johnson, CEO of DEKRA Automotive. "At DEKRA we are committed to reducing road fatalities around the globe, playing our role in making sure that unsafe and unroadworthy vehicles are not placed on our roads."
Leading causes of accidents on South African roads relate to distracted drivers, drinking and driving, speeding, driving recklessly, bad weather, poor road conditions and pedestrians. "While these aspects can be avoided to a large extent by driving responsibly and attentively, taking the necessary precautions to ensure the safety of your vehicle is entirely in the hands of the motor owner; Johnson explains.
Identifying aspects that are in need of maintenance on your vehicle may not always be as easy as it seems. "A quick review of the state of your tyres and wiper blades is essential, but the mechanical aspects of your vehicle such as the state of your brakes, steering mechanisms, shocks and any aspects relating to optimising the function of your car engine, is often harder to gauge; says Johnson.
If you are noticing any odd sounds, smells or vibrations on your car, it is best to have it checked out by professionals to make sure that all is in order. DEKRA's comprehensive list of vehicle inspection products, include a condition report and technical inspection, which will find any issues on your vehicle that need to be addressed before safely heading out on the big open road:
The Vehicle Safety Check from DEKRA
A proactive approach to a trouble-free road trip on your next family holiday starts with a vehicle safety check. It is quick and thorough and can even be done the same day that you are planning on leaving. A safety check covers 21 safety items of your car that do not necessarily form part of a standard manufacturer's service plan and is undertaken by a qualified vehicle examiner, making sure that your car is safe and ready for your next big family vacation. Best of all, it is easy on your pocket but big on safety.
The Technical Inspection from DEKRA
A technical inspection really is the premium solution available to a vehicle owner, providing complete peace of mind with a technical inspection that looks at every single aspect of the vehicle, from bumper to bumper. The inspection is performed by an expert technical inspection team that will provide you with a comprehensive and detailed report on the mechanical and technical status of your vehicle, which will catch any latent or unobservable issues that are often missed with a basic visual check. When used in conjunction with a proactive maintenance strategy, it will help you to avoid unexpected breakdowns.
"Being proactive and taking preventative measures to ensure your own safety and that of your loved ones on our roads, is not something to compromise on. Visit our website today to find the closest DEKRA outlet to you to do a quick and painless vehicle check that will put your mind at ease and ensure the safety of your loved ones on your next big road trip; concludes Johnson.
Visit www.dekraauto.co.za for more information.
About DEKRA Auto
DEKRA Automotive Pty Ltd commenced operations in South Africa on 1 October 2008 and is a joint venture partnership with DEKRA Germany, a market leader in the supply of roadworthy certificates and technical checks - the DEKRA seal - and is present in 19 countries worldwide.
DEKRA is known for its highest standards of quality, the level of expertise of its employees and the fact that once DEKRA places its name on a product; be it a roadworthy or safety certificate, the DEKRA name is completely trusted.
We believe this knowledge and awareness helps to build safety for motorists and the community, and above all, the preservation of human life through the delivery of quality products.
DEKRA Automotive offers a condition report that is a comprehensive digital report, rich with imagery, data on the vehicle, and the technical status of the vehicle.
DEKRA is recognised across the globe for precise and in-depth tests conducted by professional DEKRA vehicle examiners. Statistics show that there is a higher possibility of a buyer purchasing a vehicle that has been inspected by DEKRA, than that of a vehicle that has not. As a seller, by ensuring you have a vehicle condition report for your used vehicle, you can quickly and easily understand if the sales price you are looking for, matches the value of the vehicle you have. The DEKRA condition report will help you understand the true condition of your vehicle and whether you are over-pricing or under-pricing your car.
To ensure your journey of purchasing a second-hand vehicle, is seamless and enjoyable, insist on a DEKRA Vehicle Condition Report from the seller and know exactly what you are buying into. With our reports, buyers can easily establish the exact value of the vehicle they are purchasing and quickly determine if the vehicle is worth the purchase. Our qualified team of experts will ensure a thorough inspection is conducted of the interior and exterior of the vehicle. DEKRA has over 40 nationwide quality service stations to assist every used car buyer or seller, easily and conveniently.
Enjoy peace of mind with a DEKRA report today!