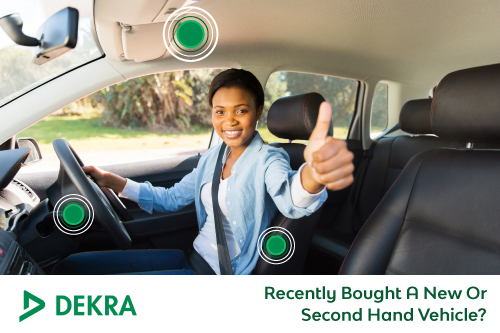 Ten-point checklist for your car.
Everyday safety from DEKRA.
Often, what you don't see you don't worry about, and that is where it is crucial to do a regular check on your vehicle and to be observant of any strange noises, smells, shudders or handling issues that you may experience on your vehicle.
For more than 90 years, DEKRA has been committed to reducing road fatalities around the globe, playing its role in making sure that unsafe and unroadworthy vehicles are not placed on our roads. DEKRA provides a ten-point checklist of everything you need to consider when assessing the condition of your vehicle to make your own safety and the safety of your loved ones, a priority:
1. Check your Tyres
Keeping your tyres firmly planted on the road is the first step to safety on the road. This starts by checking the tread on your tyres, regularly.
According to South African law, tyres need a tread depth of at least 1 mm. It would be wise to heed this stipulation, as it is one of the criteria your insurance company will consider in the event of an accident.
Your tyres will generally not wear evenly across all four tyres. Most vehicles in SA are front-wheel-driven, which means your tyres at the front will wear down more than your back tyres will. The way that your tyres wear down, is often a tell-tale sign of any issues you may have with your tyre inflation, balancing and alignment. If you are unsure, have your tyres checked by professionals to see how you can extend the longevity of your tyres.
2. Check your Brakes
Another safety feature that is absolutely crucial to the safety of your vehicle, is its ability to stop, allowing you to keep control of your vehicle, even in risky situations.
Your car owner's manual should give you a general idea of how often you may need to replace the brake pads on your vehicle. If, however, you are in doubt, it is always a good idea to have your braking system checked by professionals such as DEKRA. This includes checking the brake fluid levels on your car and also the handbrake, as all these aspects play a role in bringing your car to a safe stop.
3. Check your Windscreen
It may not seem that way, but a windscreen plays an integral role in the safety of your vehicle. It extends well beyond the obvious need of providing the driver with an unobstructed view of the road, to playing an important role in the structural integrity of the vehicle. Chips and cracks compromise the integrity of the glass, which is why these need to be addressed sooner, rather than later. Windscreen repairs can be done easily and quickly, and it is often not as expensive as you think it may be. It is a good idea to have chips on your windscreen fixed, before it turns into a crack, as this may lead to the entire windscreen having to be replaced.
4. Check your Windscreen Wipers
If the rubber is perished and weathered on your wipers, it will not perform as it should in a torrential downpour. The purpose of your wipers is to clean debris and water from the windscreen to enhance the driver's view. That is why it is important to check your wipers following the winter months or before you head out on the open road, in preparation for summer downpours or any debris that may land on your windscreen. Also remember to fill up the wiper fluid in your engine compartment, to help with any stubborn dirt or debris.
5. Check your side and rear-view mirrors
Mirrors in a vehicle provide the driver with the means to see around and behind the vehicle, which is essential when navigating traffic in any scenario. Make sure that your side and rear-view mirrors are clean, clear and in good working order to allow you to position them optimally.
6. Check your Lights
The lights in and around your vehicle serve a multitude of purposes that allow the driver to see the road at night or while driving in severe weather conditions. External lights also allow the vehicle to be seen by other road users at night or during foggy or rainy conditions. Car lights indicate to drivers around you whether you are braking or changing direction. It is important to make sure that your headlights, bright lights, brakes, reverse lights and indicator lights are in working order, including a trailer or any other item you are towing.
7. Check your Water and Oil levels
No engine can function in the absence of water and oil. Make sure to check all your vehicle's fluid levels on a regular basis to maintain optimum engine function.
8. Check your Shock Absorbers
Shock absorbers control unwanted motion of a spring-mounted vehicle. The springs within your car's suspension act as a cushion between the axles and the body and reduce the shocks on the body produced by a rough road surface. That is why worn shock absorbers affect a great deal of your car's handling and tyre wear and tear. If unsure, have your shock absorbers checked by the experts at DEKRA.
9. Check your Seatbelts and car chairs
One of the most important safety features in your vehicle are the safety belts and car chairs for children. They are crucial to keeping you safe within the vehicle in the event of an accident, which is why it is illegal for the driver or passengers in a vehicle to drive without a seatbelt on South African roads. Make sure that the car's safety belts and car seats are sturdy and secure and always strap your children into their seats.
10. Emergency Roadside Assist
Make a note of any emergency roadside assist numbers and have them readily available, especially if you are heading out on the open road, so that you don't get stranded on the side of the road in an emergency.
Perhaps it's time to get a DEKRA Vehicle Safety Check that is easy on your pocket but big on safety. A safety check covers 21 safety items of your car and is undertaken by a qualified vehicle examiner, making sure that your car is safe and ready for your next big road trip.
Find your nearest DEKRA branch online at www.dekraauto.co.za and book your DEKRA vehicle safety check today.
About DEKRA Auto
DEKRA Automotive Pty Ltd commenced operations in South Africa on 1 October 2008 and is a joint venture partnership with DEKRA Germany, a market leader in the supply of roadworthy certificates and technical checks - the DEKRA seal - and is present in 19 countries worldwide.
DEKRA is known for its highest standards of quality, the level of expertise of its employees and the fact that once DEKRA places its name on a product; be it a roadworthy or safety certificate, the DEKRA name is completely trusted.
We believe this knowledge and awareness helps to build safety for motorists and the community, and above all, the preservation of human life through the delivery of quality products.
DEKRA Automotive offers a condition report that is a comprehensive digital report, rich with imagery, data on the vehicle, and the technical status of the vehicle.
DEKRA is recognised across the globe for precise and in-depth tests conducted by professional DEKRA vehicle examiners. Statistics show that there is a higher possibility of a buyer purchasing a vehicle that has been inspected by DEKRA, than that of a vehicle that has not. As a seller, by ensuring you have a vehicle condition report for your used vehicle, you can quickly and easily understand if the sales price you are looking for, matches the value of the vehicle you have. The DEKRA condition report will help you understand the true condition of your vehicle and whether you are over-pricing or under-pricing your car.
To ensure your journey of purchasing a second-hand vehicle, is seamless and enjoyable, insist on a DEKRA Vehicle Condition Report from the seller and know exactly what you are buying into. With our reports, buyers can easily establish the exact value of the vehicle they are purchasing and quickly determine if the vehicle is worth the purchase. Our qualified team of experts will ensure a thorough inspection is conducted of the interior and exterior of the vehicle. DEKRA has over 40 nationwide quality service stations to assist every used car buyer or seller, easily and conveniently.
Enjoy peace of mind with a DEKRA report today!