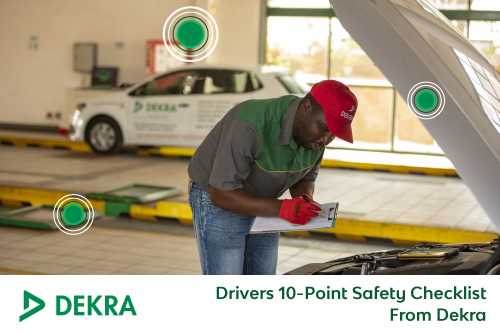 Get your car in tip-top shape for the open road, with Dekra's Safety Check
Top 10 tips for your holiday season preparations
After a torrid two years amidst the ongoing COVID-19 pandemic, the vast majority of South Africans are in desperate need of some quality rest and relaxation. If your car has not been used as often as usual during the country's various lockdowns, or if you have purchased a second-hand car recently, make sure to do a thorough safety check before heading out on the open road this December.
A DEKRA vehicle safety check is a proactive approach to a trouble-free road trip on your next family holiday. It is quick and thorough and can even be done the same day that you are planning on leaving. A safety check covers 21 safety items of your car that do not necessarily form part of a standard manufacturer's service plan and is undertaken by a qualified vehicle examiner, making sure that your car is safe and ready for the open road. Best of all, it is easy on your pocket but big on safety.
The top 10 things that need to be checked on your vehicle in a safety check, include:
Tyres - According to South African road-safety regulations the tread on tyres must be at least 1 mm deep, but from a safety point of view it is better to aim for at least 1.6 mm. Also, make sure that your tyres are inflated to an optimum level to prevent unnecessary wear and tear. Don't forget to check the spare wheel too.
Brakes - Responsive brakes are essential for daily safe driving, which makes it crucial to check the pads and brake fluid levels before a long drive. A DEKRA vehicle safety check will confirm the state of your brakes and the team will be able to tell you how to rectify the situation if any are necessary. Don't overlook the handbrake.
Windscreen - Repair any chips or cracks in your windscreen as any time spent parked in a hot summer sun may just cause your windscreen to crack completely. Most motor insurance policies provide cover for this type of repair and it can be done swiftly and painlessly.
Windscreen Wipers - December is also South Africa's rainy season, which is why you don't want to find out that your wipers are not doing their job efficiently in the middle of a torrential downpour. Have them checked and replaced, if necessary, and remember to check the back wiper too.
Side mirrors - Having eyes all around your vehicle while driving is so necessary. Safely changing lanes or knowing what drivers are doing around you are crucial to a safe journey. If your side mirror is damaged or cracked, it is crucial to have it amended as soon as possible. Also, make sure that your mirrors are in the best position so that you can see what is going on around your vehicle at all times.
Lights - All lights should be in perfect working order for the safest trip including headlights, bright lights, fog lights, brake lights, reverse lights and all indicator lights. Any broken lamps or bulbs need to be replaced and in some instances, the actual light fitting can be wiped out to increase the luminosity of your car lights. This is especially handy in older vehicles where dirt and dust have had time to accumulate.
Fluid levels - Check that all fluid levels are sufficient in your car such as water, oil, brake fluid and wiper spray water. It is easy to spot these on your car engine as they usually comprise of twist-off coloured or metal caps that say what they are for. Make sure that you add the correct fluid to the correct reservoir as a mistake can prove to be a costly exercise. If you are not sure, rather leave it to the experts at DEKRA, to inspect during your vehicle safety check .
Rest - Get enough rest before you embark on your journey and take regular breaks along the way to stretch your legs and refresh your mind. Open a window for some fresh air, listen to your favourite music or engross your mind in an audiobook; whatever you need to do to keep your mind fresh and alert.
Route - Plan your route and allow enough time to reach your destination in daylight. Try and avoid areas that may potentially be hazardous and make sure that you have emergency contact numbers programmed into your phone. Many mobile applications can assist you in planning your route and getting you to your destination without taking the proverbial 'scenic route'.
Rules - Obey the rules of the road at all times for the safety of your loved ones and all road users. Pay particular attention to motorists that are overtaking other vehicles on the road, as these can prove to be dangerous when solid white lines on the road are ignored.
Making sure that you arrive safe and sound at your holiday destination starts with planning and doing the necessary checks and balances to ensure your safety and that of your loved ones on our roads. Visit our website to find the closest DEKRA outlet to you to do a quick and painless vehicle safety check that will put your mind at ease and ensure the safety of your loved ones as you head out on the open road this holiday season.
Visit www.dekraauto.co.za for more information.
About DEKRA Auto
DEKRA Automotive Pty Ltd commenced operations in South Africa on 1 October 2008 and is a joint venture partnership with DEKRA Germany, a market leader in the supply of roadworthy certificates and technical checks - the DEKRA seal - and is present in 19 countries worldwide.
DEKRA is known for its highest standards of quality, the level of expertise of its employees and the fact that once DEKRA places its name on a product; be it a roadworthy or safety certificate, the DEKRA name is completely trusted.
We believe this knowledge and awareness helps to build safety for motorists and the community, and above all, the preservation of human life through the delivery of quality products.
DEKRA Automotive offers a condition report that is a comprehensive digital report, rich with imagery, data on the vehicle, and the technical status of the vehicle.
DEKRA is recognised across the globe for precise and in-depth tests conducted by professional DEKRA vehicle examiners. Statistics show that there is a higher possibility of a buyer purchasing a vehicle that has been inspected by DEKRA, than that of a vehicle that has not. As a seller, by ensuring you have a vehicle condition report for your used vehicle, you can quickly and easily understand if the sales price you are looking for, matches the value of the vehicle you have. The DEKRA condition report will help you understand the true condition of your vehicle and whether you are over-pricing or under-pricing your car.
To ensure your journey of purchasing a second-hand vehicle, is seamless and enjoyable, insist on a DEKRA Vehicle Condition Report from the seller and know exactly what you are buying into. With our reports, buyers can easily establish the exact value of the vehicle they are purchasing and quickly determine if the vehicle is worth the purchase. Our qualified team of experts will ensure a thorough inspection is conducted of the interior and exterior of the vehicle. DEKRA has over 40 nationwide quality service stations to assist every used car buyer or seller, easily and conveniently.
Enjoy peace of mind with a DEKRA report today!