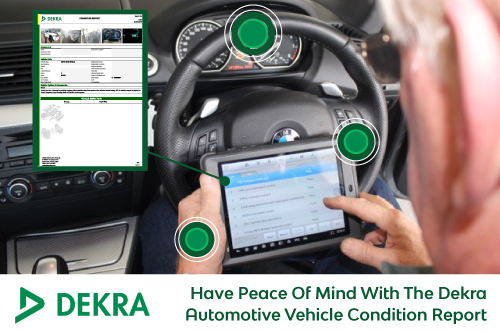 Putting Safe Vehicles on South African Roads - Why a vehicle condition report can save your life
According to the World Bank , road accidents can cause an economic burden as much as five percent of a lower- and middle-income country's GDP due to loss of life and injuries sustained.
The annual cost to the economy of road accidents on South African roads is estimated to be in excess of R164-billion .
One of the top causes of road accidents on South African roads, are poorly maintained and unroadworthy vehicles.
'The numbers speak for themselves,' says Garth Johnson, CEO DEKRA Automotive.
'For more than 95years, DEKRA has been committed to reducing road fatalities around the globe, playing our role in making sure that unsafe and unroadworthy vehicles are not placed on our roads.'
DEKRA provides a list of everything you need to consider when assessing the condition of your vehicle to make your own safety and the safety of your loved ones, a priority:
Condition Reports:
A comprehensive digitalised and image rich report, that reports on the technical status of the vehicle. To view more information on the Condition Report, read Buying A Second Hand Car? Why you need an independent condition report!
Vehicle Safety Check:
There is nothing worse than having to deal with car troubles while you are on vacation. A proactive approach to a trouble-free road trip on your next family holiday starts with a vehicle safety check. It is quick and thorough and can even be done the same day that you are planning on leaving. Best of all, it is easy on your pocket but big on safety.
'Potholes and debris are common features on South African roads, all of which can deteriorate the safety of your vehicle over time. A safety check covers 21 safety items of your car that do not necessarily form part of a standard manufacturer's service plan and is undertaken by a qualified vehicle examiner, making sure that your car is safe and ready for your next big family vacation,' explains Johnson.
Multi-Point Vehicle Checks:
'A multi-point car inspection check provides quality information related to the technical status of a vehicle and is, therefore, a great overall inspection of your current vehicle or a second-hand vehicle that you are considering purchasing. Not only is it easy on your pocket, but the vehicle is inspected by qualified technicians who look at 35 key point areas of the vehicle, such as (add three or four aspects here),' says Johnson
'It is also of great benefit if you are thinking of selling your vehicle, providing a prospective buyer with the added peace of mind that the vehicle has been subjected to a technical inspection, attesting to the vehicle's actual condition,' he adds.
Technical Inspection:
A technical inspection really is the Rolls Royce of the three options available to a vehicle owner, providing complete peace of mind with a technical inspection that looks at every single aspect of the vehicle, from bumper to bumper.
'If you have concerns about your vehicle and you need the insight of an expert technical inspection team to help you confirm what exactly is right and wrong with your vehicle, then this is the option for you. When used in conjunction with a proactive maintenance strategy, it will help you to avoid unexpected breakdowns. You can rest assured that the technical inspection will provide you with a comprehensive and detailed report on the mechanical and technical status of your vehicle, that will catch any latent or unobservable issues that are often missed with a basic visual check,' says Johnson.
Roadworthy Certificates:
DEKRA is able to provide a legal roadworthy certificate from any of its branches. A roadworthy vehicle certificate is a compulsory requirement for every vehicle on South African roads and usually comes into play when you are either thinking of buying a vehicle or selling your vehicle. A new vehicle will not be registered in your name, without a legal roadworthy certificate.
'Regulations laid out by the National Road Traffic Act and SANS 10047/SANS 10216 are the basic building blocks to ensuring that vehicles on our roads are roadworthy. It is, however, crucial to make use of a trusted certifier who has extensive knowledge and experience in the field,' says Johnson.
'If you are dealing with a dealership in the purchase of your vehicle, they are likely to take care of the roadworthy certificate on your behalf. But in the instance where you are selling or buying a vehicle privately, you may need to follow the process yourself. This is where DEKRA's ability to provide you with a roadworthy certification option, proves invaluable. Not only can you be assured of the highest vehicle testing standards, but we will also be able to assist you with the licensing and registration of the vehicle, including number plates, if needed,' explains Johnson.
In Conclusion, 'Being proactive and taking preventative measure to ensure your own safety and that of your loved ones on our roads, is not something to compromise on. Visit our website today and choose an option that suits your needs and which will give you complete peace of mind,' concludes Johnson.
Visit www.dekraauto.co.za for more information.
More about DEKRA South Africa
DEKRA Automotive Pty Ltd commenced operations in South Africa on 1 October 2008 and is a joint venture partnership with DEKRA Germany, a market leader in the supply of roadworthy certificates and technical checks - the DEKRA seal - and is present in 19 countries worldwide.
DEKRA is known for its highest standards of quality, the level of expertise of its employees and the fact that once DEKRA places its name on a product; be it a roadworthy or safety certificate, the DEKRA name is completely trusted.
We believe this knowledge and awareness helps to build safety for motorists and the community, and above all, the preservation of human life through the delivery of quality products.
We have nationwide branches to assist you where it is most convenient.