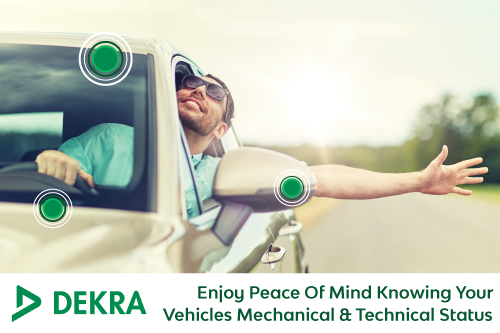 DEKRA's selection of vehicle inspection solutions: To suit every pocket
Worldwide, DEKRA is known for its high standard of quality and the expertise of its employees when it comes to its wide selection of vehicle inspection solutions. Once DEKRA places its name on a product, whether it's a roadworthy test or safety check, you have the peace of mind of knowing the exact status of your vehicle by means of an independent inspected by an expert that has no bias towards the dealership or prejudice towards the buyer.
DEKRA's comprehensive list of vehicle inspection products, include:
A condition report is a comprehensive digitalised and image rich report that informs a potential buyer of the technical status of a vehicle. Our team of experts will verify the vehicle make, model, VIN numbers, kilometres on the clock, the year the car was manufactured and its service history. In addition, the report will list any faults on the vehicle such as tyre tread, the condition of its brakes and diagnostics. Last, but not least, the condition report will also verify any photos posted by the seller of the vehicle.
A technical inspection really is the premium solution available to a prospective vehicle owner, providing complete peace of mind with a technical inspection that looks at every single aspect of the vehicle, from bumper to bumper. The inspection is performed by an expert technical inspection team that will provide you with a comprehensive and detailed report on the mechanical and technical status of the vehicle, that will catch any latent or unobservable issues that are often missed with a basic visual check. When used in conjunction with a proactive maintenance strategy, it will help you to avoid unexpected breakdowns.
A multi-point car inspection check provides quality information related to the technical status of a vehicle and is, therefore, a great overall inspection of your current vehicle or a second-hand vehicle that you are considering purchasing. Not only is it easy on your pocket, but the vehicle is inspected by qualified technicians who look at 35 key point areas of the vehicle.
A proactive approach to a trouble-free road trip on your next family holiday starts with a vehicle safety check. It is quick and thorough and can even be done the same day that you are planning on leaving. A safety check covers 21 safety items of your car that do not necessarily form part of a standard manufacturer's service plan and is undertaken by a qualified vehicle examiner, making sure that your car is safe and ready for your next big family vacation. Best of all, it is easy on your pocket but big on safety.
DEKRA is able to provide a legal roadworthy certificate from any of its branches. A roadworthy vehicle certificate is a compulsory requirement for every vehicle on South African roads and usually comes into play when you are either thinking of buying a vehicle or selling your vehicle. A new vehicle will not be registered in your name, without a legal roadworthy certificate.
Contact your nearest DEKRA branch to find out how we can help you get complete peace of mind on the road.
More about DEKRA South Africa
DEKRA Automotive Pty Ltd commenced operations in South Africa on 1 October 2008 and is a joint venture partnership with DEKRA Germany, a market leader in the supply of roadworthy certificates and technical checks - the DEKRA seal - and is present in 19 countries worldwide.
DEKRA is known for its highest standards of quality, the level of expertise of its employees and the fact that once DEKRA places its name on a product; be it a roadworthy or safety certificate, the DEKRA name is completely trusted.
We believe this knowledge and awareness helps to build safety for motorists and the community, and above all, the preservation of human life through the delivery of quality products.
We have nationwide branches to assist you where it is most convenient.